Publications
When you are a person that strives to be your BEST, in every part of your life, where do
you draw your inspiration? When you are a business owner, who wants the best for your business and your employees, where do you point people for resources? When you want to focus your energy directly at a spot that says EXCELLENCE, how do you find that spot?
REALiving publications are meant to be visual, accessible, and flexible products to assist professionals, entrepreneurs, and business owners in that quest to be the BEST.
Try us out! Just see if REALiving publications, being REAL, and inspiration to be your BEST, leave a mark on your life. Chances are, this choice will be one that will take you and your business great places!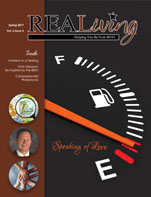 Click to view
current issue of
REALiving Magazine.
Click here
to view the
Media Kit.