There are SO many books to read, how do you get them in, and gain VALUE from the material??
Our Best Book Club library is the answer! This isn't your every day book club. This is an EFFICIENT, time saving, "cut to the chase" library of professional development books. A facilitator will review the worthy points in the book so you gain the VALUE of the book - even telling you what to write down.



Best Book Club Library:

The Happiness Project
by Gretchen Rubin

Gretchen Rubin had an epiphany one rainy afternoon in the unlikeliest of places: a city bus. "The days are long, but the years are short," she realized. "Time is passing, and I'm not focusing enough on the things that really matter." In that moment, she decided to dedicate a year to her happiness project. In this lively and compelling account, Rubin chronicles her adventures during the twelve months she spent test-driving the wisdom of the ages, current scientific research, and lessons from popular culture about how to be happier. Among other things, she found that novelty and challenge are powerful sources of happiness; that money can help buy happiness, when spent wisely; that outer order contributes to inner calm; and that the very smallest of changes can make the biggest difference.

(from Amazon.com)

Do One Thing Different
by Bill O'Hanlon

You can move quickly from "stuck" to "smooth sailing" in all aspects of your life using Bill O'Hanlon's ten easy Solution Keys, Humorous, direct, and effective, they help you change how you view and "do" your problems-from difficult relationships to enhancing sexuality and resolving conflicts of all kinds. The next time you have a problem, try one of these solution keys:

1. Break Problem Patter: Change any one of what you usually do in the problem situation-i.e. do one thing different! Example: If you usually get angry and defensive, sit quietly and listen.

2. Find and Use Solution Pattern: Import solutions from other situations where you felt competent. Examples: what do you know on the golf course that you forget when you get behind the wheel of your car? What do you say to resolve a problem with an angry customer that you don't say to your angry partner?

3. Shift Your Attention: Focus what you would like to have happen rather than on what is happening.

Grounded in therapeutic practice, this bold and funny book will put you back in control of your emotions and your life.

(from Amazon.com)

Getting to Yes: Negotiating Agreement Without Giving In
by Roger Fisher, William Ury and Bruce Patton

Since its original publication nearly thirty years ago, Getting to Yes has helped millions of people learn a better way to negotiate. One of the primary business texts of the modern era, it is based on the work of the Harvard Negotiation Project, a group that deals with all levels of negotiation and conflict resolution.

Getting to Yes offers a proven, step-by-step strategy for coming to mutually acceptable agreements in every sort of conflict. Thoroughly updated and revised, it offers readers a straight-forward, universally applicable method for negotiating personal and professional disputes without getting angry-or getting taken.

(from Amazon.com)

Emotional Intelligence
by Daniel Coleman

Everyone knows that high IQ is no guarantee of success, happiness, or virtue, but until Emotional Intelligence, we could only guess why. Daniel Goleman's brilliant report from the frontiers of psychology and neuroscience offers startling new insight into our "two minds"—the rational and the emotional—and how they together shape our destiny.

Through vivid examples, Goleman delineates the five crucial skills of emotional intelligence, and shows how they determine our success in relationships, work, and even our physical well-being. What emerges is an entirely new way to talk about being smart.

The best news is that "emotional literacy" is not fixed early in life. Every parent, every teacher, every business leader, and everyone interested in a more civil society, has a stake in this compelling vision of human possibility.

(from Amazon.com)

Time Tactics of Very Successful People
by Eugene Griessman

A new approach to time management focusing on how highly successful people get their work done without sacrificing the life they live.

This entertaining volume has what no other time management book has: insights on how to manage time from high achievers such as Malcolm Forbes, Jr., Ted Turner, Sandra Day, Dr. Johnnetta Cole, and Home Depot CEO Bernie Marcus. Dr. B. Eugene Griessman has interviewed hundreds of contemporary peak performers (and researched dozens of historical high achievers) to unearth the secrets of their success. He presents their time management tactics in short "Bites" designed to inspire today's time-starved reader, whether they're over worked managers, working moms, entrepreneurs on the go, or even newly unemployed people who must suddenly learn to structure their own time.

(from Amazon.com)

The 7 Habits of Highly Effective People
by Stephen Covey

In The 7 Habits of Highly Effective People, author Stephen R. Covey presents a holistic, integrated, principle-centered approach for solving personal and professional problems. With penetrating insights and pointed anecdotes, Covey reveals a step-by-step pathway for living with fairness, integrity, service, and human dignity--principles that give us the security to adapt to change and the wisdom and power to take advantage of the opportunities that change creates.

(from Amazon.com)

The Magic of Thinking BIG
by David J. Schwartz

SET YOUR GOALS HIGH...THEN EXCEED THEM!

Millions of people throughout the world have improved their lives using The Magic of Thinking Big. Dr. David J. Schwartz, long regarded as one of the foremost experts on motivation, will help you sell better, manage better, earn more money, and -- most important of all -- find greater happiness and peace of mind.

The Magic of Thinking Big gives you useful methods, not empty promises. Dr. Schwartz presents a carefully designed program for getting the most out of your job, your marriage and family life, and your community. He proves that you don't need to be an intellectual or have innate talent to attain great success and satisfaction -- but you do need to learn and understand the habit of thinking and behaving in ways that will get you there. This book gives you those secrets!

(from Amazon.com)

Leadership From the Inside Out
by Kevin Cashman

"Leadership from the Inside Out," Kevin Cashman's breakthrough business bestseller that clearly connected personal growth to leadership effectiveness, is now completely revised and updated with:
-an explosion of new validating independent research
-impressive new case studies
-new tools and practices
-an even more powerful virtual coaching experience

Still framed in seven simple yet profound "mastery areas," this book serves as an integrated coaching experience that helps leaders understand how to harness their authentic, value-creating influence and elevate their impact as individuals, in teams, and in organizations. Cashman demonstrates that his trademark "whole-person" approach--we lead by virtue of who we are--is essential to sustained success in today's talent-starved marketplace and provides a measurable return on investment. For everyone from CEOs to emerging leaders.

(from Amazon.com)
The Price is $45 per book which includes: the book, a Best Book Club journal and book mark, and a link to the audio review for that book.
Upon payment you will be sent an email with link to audio and instructions. Please allow
7 business days for shipment.
ORDER TODAY!! Call us at 855.233.1048 to start.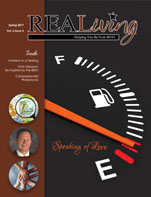 Click to view
current issue of
REALiving Magazine.
Click here
to view the
Media Kit.