Events
REALiving presentations are motivational in nature, and are meant to inspire you to achieve authentic greatness in your life. Our events are "classy". We believe that you deserve a professional, polished, high quality experience. We host our own event in locations that
are both professional and inspirational.
As our guest, we want you to be inspired by all of your senses - the environment, the food/beverages, and the experience are all designed as an authentic treat for you!
REALiving presentations are diverse in the nature of the topics, but consistent in that they bring confidence, solutions, and an inspirational "shot" of energy to take with you with you when you leave!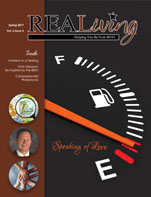 Click to view
current issue of
REALiving Magazine.
Click here
to view the
Media Kit.