10-76 to Wellness Newsletter
Emergency Services is a field that is "special." Law Enforcement Officers, Correctional Officers, Emergency Communications Workers, Paramedics and Firefighters all engage in work and experience situations that have a unique impact on the employee. The support services offered to these employees are of an accelerated importance, because the consequences of a career in the field are well documented. Both Police Chief and Fire Chief Magazine have published articles highlighting studies which show that emergency services workers who experience ongoing stress are more likely to display anger, distance themselves from their family members, and have unsatisfactory marriage and family relationships. Additionally, both publications, as well as other trade industry groups, cite studies that point to a great incidence of suicidal ideation and successful suicide in these groups as compared to other industries.
REALiving's Employee Achievement Program (EAP) offers enhanced services specialized for Emergency Services Professionals.
10-76 to Wellness is a monthly newsletter which targets the unique issues facing this group of employees and their families. The newsletter is mailed directly to the employee's home, in hopes that it will be viewed by the employee, a spouse or a family member. 10-76 to Wellness is available via subscription, or as a part of a comprehensive EAP.
For more information on how you can receive 10-76 to Wellness, contact us at 855.233.1048.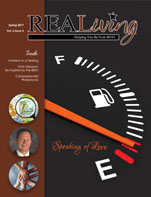 Click to view
current issue of
REALiving Magazine.
Click here
to view the
Media Kit.